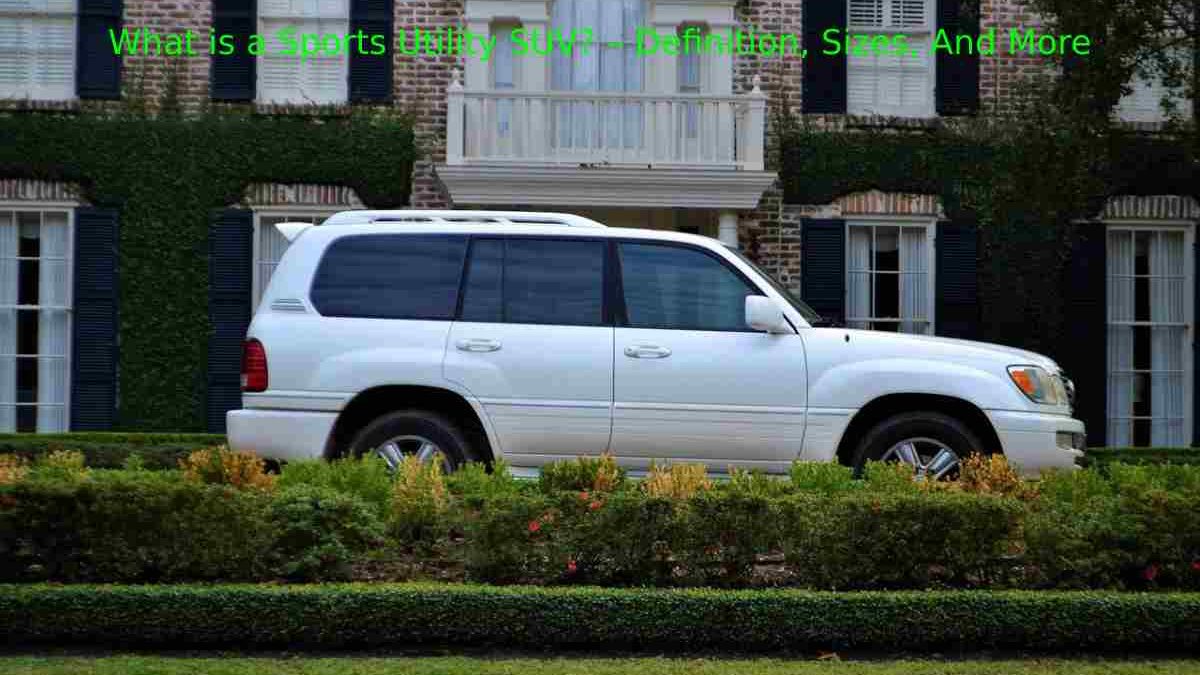 Sports Utility Vehicles – Definition
Sports Utility SUV Meaning SUV is an acronym for Sports Utility Vehicle. It is also known as a 'Suburban Utility Vehicle'. There was an idea behind the invention of this vehicle type. That was to combine the towing.
SUV is an acronym for Sports Utility Vehicle. It is also known as a 'Suburban Utility Vehicle'. There was an idea behind the invention of this vehicle type. That was to combine the towing capacity of a pickup truck and the passenger car's comfort of a minivan. In other words, the SUV offers the best of these segments. Technically speaking, a Sports Utility Vehicle is always an all-wheel drive, i.e. 4X4. It is a common misconception to call 4X2 vehicles a Sports Utility Vehicle, considering only the styling part.
Classification of SUV Sports Utility Car
Sports Utility Vehicles are classified based on the overall dimensions.  They are the Compact Sports Utility Vehicle, Mid-sized Sports Utility Vehicle, and Full-sized Sports Utility Vehicle, respectively.
Sizes of SUVs Sporty Utility Car
There are three sizes of SUVs: small, mid-size, and full-size.
Small SUVs
The small SUV models, such as the Nissan Rogue and the Hyundai Tucson, are easier to park and manoeuvre, and some mini-SUVs are compact crossovers. The Mazda CX-5 is more of a sporty type with responsive handling and steering.
Mid-Size SUVs
Some of these are crossovers as they share platforms similar to passenger cars, while others are based on mid-size and compact pickup trucks. JD Power explains that some of the most popular choices for mid-size SUVs are the Toyota Highlander and the Honda Pilot. This is mainly because of the all-wheel drive, quiet interior, and excellent storage space.
Full-sized Sports Utility SUV- e.g. Audi Q7
Those participating in sports like offroading prefer these vehicles. However, due to the heightened structure, they are more prone to body roll than other car types such as sedans and hatchbacks.
Sports Utility Vehicles are popular among customers because they offer offroading capabilities and car-like features. Mercedes-Benz, BMW, Audi, Land-Rover, and Volvo are some of the top luxury car-makers that offer premium SUVs. Maruti Suzuki Gypsy, Tata Safari Storme 4X4, Ford Endeavour 4X4, Mahindra Thar etc., are some of the Sports Utility Vehicles available in the Indian market.
Jeep is one of the oldest brands globally that manufacturers Sports Utility Vehicles. A version of the Jeep, Willys-Overland, was prevalent around the time of World War II. the Jeep became so popular that most people refer to any SUV as Jeep. Thus, Jeep became a synonym for Sports Utility Vehicles around the world. Similarly, the American SUV brand 'Hummer 'became very popular after the US Army ordered the vehicle.
What Are Difference Between Sporty Utility SUV Vs Crossover Utility Vehicles
" design. In that case, the body is built separately from the frame and placed together later. Traditional SUVs and crossovers are based on different platforms. If a vehicle is based on a truck's platform, it's an SUV, and if it is based on a car's platform, it's a crossover. An SUV utilizes body-on-frame construction. A crossover is a unibody vehicle. If you're searching for a family car, you've likely considered SUVs or crossovers. And if you've considered them, you've probably wondered: What's the difference? Why are some models called crossovers while others are known as SUVs? We've outlined the differences for interested shoppers.
It's All About Platform
For many car experts, the difference between the two is simple: A crossover is based on a car's platform, while an SUV uses the chassis of a truck. The result is that crossovers use "unibody" architecture, meaning the body and frame are one piece, while SUVs use a "body on frame
SUV sales have been increasing at an unprecedented rate for the last couple of years. Crossover and SUVs are the largest and most popular vehicle segments representing the automotive industry these days. While sedans and hatchbacks have their charm, most people would always go for an SUV or a crossover. Perhaps a decade ago, one would have been referring to the more fuel-efficient hatchbacks or compact sedans. Still, with more flexibility and fuel-efficient engines, utility vehicles are fast becoming the peoples' favourite family car these days. Ask any auto enthusiast what type of vehicle they like to ride, and most will say they'd love to ride an SUV or a crossover any time of the day.
Conclusion
The first examples were prominent and fitted with four-wheel drives and ample interiors built to navigate challenging terrains—the term SUV in brochures for the full-sized 1974 Jeep Cherokee SJ. Autotrader says the AMC Eagle came in coupe, sedan, station wagon styles, which can offer luxury, comfort, and convenience as a passenger car.
When contemplating a vehicle that fits your lifestyle, it is essential to weigh all the factors. You have to consider the price, how you are going to use it, the size, performance, safety, comfort, and fit it meets your storage needs. This SUV guide gives you more information on SUVs to help you understand the capabilities of each type. If you need help narrowing down your choices, please speak with your sales associate about your needs.
Also Read: What is INEOS Grenadier? – Definition, Authentic, Buyers, And More