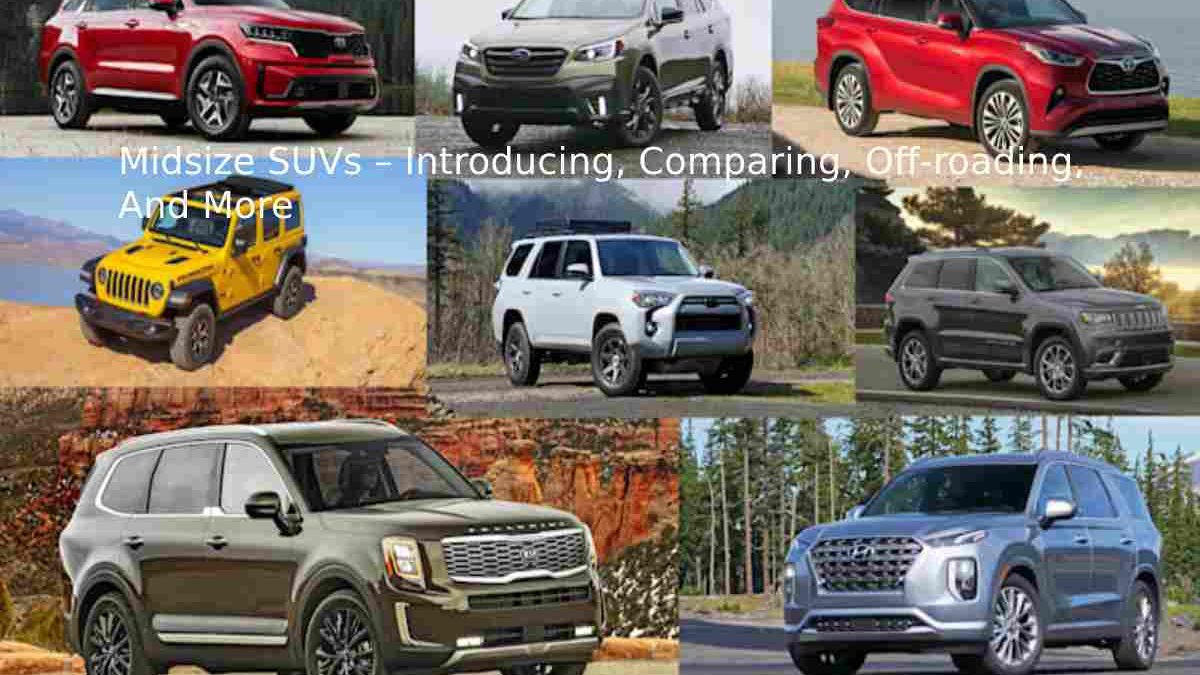 Midsize SUVs – Introducing
Midsize SUVs is slightly larger than their compact counterpart. You typically have a minimum of a turbo four-cylinder engine to power your travels in this range. This is also where you'll find some towing and off-roading capabilities. Here, you're moving away from the sedan look and feel and into that of a truck.
SUVs long ago eclipsed minivans and station wagons as American families' preferred transportation modules, and midsize SUVs hit at the sweet spot for most clans. They're not too big and thirsty but large enough to be proper kid hauliers and, in some cases, intelligent trail machines. Automakers have responded by stuffing their line-ups full of midsize SUVs for every purse and purpose, which means there are many good choices.
On this list of the best midsize SUVs for 2022, tech-heavy near-luxury comfort mobiles ride alongside off-road adventurers, fuel-sipping hybrids and down-to-earth utilitarian choices. These are the best midsize SUVs available in 2022 and include a mix of 2022 and 2021 model year vehicles. Because many families are looking for three-row accommodations, we also rank midsize SUVs separately by their third-row capacity.
Examples of midsize SUVs include the following:
Buick Enclave
GMC Acadia
Chevy Traverse
Honda Passport
Hyundai Santa Fe
Toyota Penza
Jeep Grand Cherokee
Volkswagen Atlas Cross Sport
Kia Telluride
Mazda CX-9
Comparing Compact and Midsize SUVs
If you're torn between a compact and midsize SUV, it's essential to think through your options carefully to find the right fit for your lifestyle. Several areas deserve your consideration. Take a look at each of these to understand better which SUV you should choose.
Seating
You'll generally find more seating in a midsize SUV than a compact SUV. In most compact SUVs, you'll find two rows with seating for five. That fifth person might have to squeeze into the middle seat in the back.
A few compact SUVs offer a third row, so you can look for these outliers if third-row seating is the only feature you're missing in this class—the Mitsubishi Outlander, Kia Sorento, and Volkswagen Tiguan compact SUVs with three rows. However, keep in mind that your passengers will be rather crunched with this setup, so you'll probably want to reserve the third row for children or use it sparingly if you go this route.
Midsize SUVs aren't guaranteed the third row, but there's a greater chance of finding this option. You'll also find that all the seating is more spacious in a midsize SUV.
Storage
Your compact SUV will still provide more storage than the average sedan, but the difference is often minor. As with seating, storage options are more extensive in a midsize SUV than a compact. You'll find the interior especially spacious if you have a third-row midsize SUV like the Volkswagen Atlas or Buick Enclave. Third-row SUVs like these often provide the opportunity to remove or fold down the back row for a particularly spacious cargo area.
Towing and Off-Roading
You won't find towing or off-roading capabilities with most compact SUVs, although the Buick Envision does have a 1,500-pound towing capacity when properly equipped. You'll start to see decent towing capabilities when you move up to the midsize SUV category. Something like the Jeep Grand Cherokee can offer a decent romp off-road and might be a good fit if you do a lot of back roads driving in tricky conditions or live in an area with snow.
If you're planning to tow a large trailer or looking for increased safety, you're probably better off with a large SUV like the GMC Acadia. Always check the weight of the equipment you want to tow and compare it with the towing capacity of an SUV you're interested in to make sure you choose a vehicle that's up to the job.
Fuel Efficiency
Smaller vehicles offer better gas mileage so that a compact SUV will win out in this area nearly every time. Many small SUVs use 15% to 25% less fuel than their larger counterparts. It's worth checking the fuel efficiency for any vehicle you're considering to understand the differences. Better fuel efficiency means you'll pay less for gas. However, you'll have less space in exchange, so you need to consider your priorities carefully.
Price
You can expect to pay less for a compact SUV than a midsize SUV. The difference is often several thousand dollars with comparable features. Consider going down a trim level if you're set on a midsize SUV and want to cut back on the price. Some of the bells and whistles may not be worth it for downsizing entirely from a midsize SUV to a compact SUV.

The Design of Midsize SUVs
Midsize SUVs have been one of the most popular vehicles in the automotive world during the past few years, mainly thanks to their practicality and efficiency. In a nutshell, a midsize SUV is a vehicle that falls in the middle between a compact SUV and a full-size SUV. Midsize SUVs tend to meet the needs of pretty much everyone. Whether you are a young teen or an older adult, single or married, they provide ample interior space and off-road capacities that can fit into any parking spot.
Enough Ground Clearance
A raised driving position is almost a symbol of SUV vehicles. Likewise, for midsize SUVs, it is a significant factor that makes consumers opt for them over their sedan counterparts. It allows you to tackle any driving situation with a better view of the road ahead. Moreover, the high-seating position gives you an extra sense of security and confidence, as the vehicle makes you feel safer.
 A Different Sense of Style
Midsize SUVs may not be the most stylish vehicles among all the vehicle types. However, many of them still stand out in overall aesthetics with their modern aerodynamic design and their elegant cabin. There is a perception of SUVs being somewhat dull and unattractive due to their excessively large size and boxy look. Auto manufacturers are now applying a more rounded, sporty look on their midsize SUVs to make them more appealing to avoid such perceptions.
 Generous Interior Space
Midsize SUVs, especially those with a third-row seat, can be a great choice if you are looking for an ample spaced cabin with comfortable seating for up to eight passengers. As many provide roomy seats in each row, you can enjoy a comfortable ride without feeling cramped for space. Aside from plenty of room for passengers, they possess a cavernous cargo space, which is extremely useful and convenient for family road trips and adventurous activities such as biking or hiking.
Conclusion
a vehicle must earn good ratings in the driver-side and passenger-side small overlap front. Moderate overlap front, side, roof strength and head restraint tests. It also must earn an advanced or superior rating for front crash prevention and an acceptable or good headlight rating. Ever since introducing how an SUV is built on a unibody construction.
Midsize SUVs have skyrocketed in the number of offerings. Their car-like handling coupled with better fuel efficiency than full-size SUVs is some of the main reasons behind their popularity. Here are some critical characteristics of midsize SUVs that make them beloved vehicles by consumers on the market.
Also Read: What are Handle Bars? – Definition, Uses, Different, And More