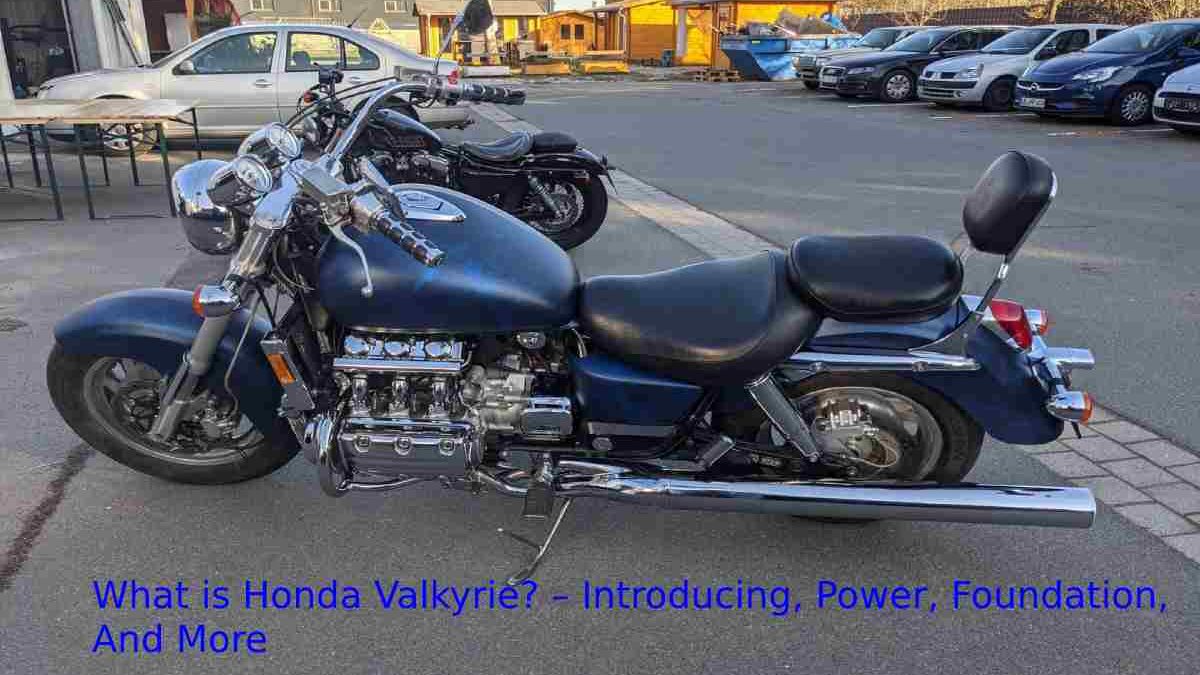 Honda Valkyrie – Introducing
Honda Valkyrie is FC6 is one of those traffic-stopping motorcycles that non-bikers are fascinated by. A stripped-down Honda GL1500 Gold Wing, with lower gearing and six carbs, the Honda F6C Valkyrie is reasonably good fun to ride, and some might say it's the best-made motorcycle in America. The Honda Rune 1800 looks like some kind.
The Valkyrie name is legendary, and the mighty six-cylinder Muscle Cruiser that stirred so many souls when it was first introduced in 1996 has a hard-core following to this day. For 2014, the Valkyrie takes that unmistakable swagger to a whole new level. It's a winning formula: Take a legendary machine, strip it down to the bare knuckles, wrap it in minimalist bodywork and power it with an engine that produces ground-shaking torque and an unmistakable six-cylinder howl.
The Valkyrie is not a tribute machine that celebrates the past. This is a cruiser unlike any other for people who appreciate quality and distinctive style and the kind of performance no conventional custom can match. The Valkyrie is not a tribute machine that celebrates the past. This is a cruiser unlike any other for people who appreciate quality and distinctive style and the kind of performance no conventional custom can match.
The Machine of Honda Valkyrie
The core of this remarkable machine is Honda's unique 1832cc liquid-cooled horizontally opposed six-cylinder engine that also powers the Gold Wing and Gold Wing F6B. With an awe-inspiring power-to-weight ratio, aluminium twin-spar frame and suspension system tuned for serious riders, the Valkyrie is all about unparalleled performance and style.
The Valkyrie's arrival comes at a perfect time; interest in the heavyweight cruiser segment have been ratcheting upward as experienced riders with discriminating taste seek out big-engine performance for a premium riding experience.
And the Valkyrie fits that description, with the added benefit of performing the conventional bikes in the category, can't touch. This is the bike the Valkyrie faithful have been waiting for, and it's bound to attract a broad segment of the riding public because arresting looks, massive power and superb handling in a large displacement motorcycle tends to create its gravitational pull.
A class of one, Then and Now
That first Honda Valkyrie inspired the phrase Muscle Cruiser to describe a whole new motorcycle category. This original no-holds-barred machine's appearance carved out a new class of one: unique custom styling, a significant displacement six-cylinder engine for immense power, excellent handling and genuine long-haul abilities rolled into one glottal-have-it package.
And to nobody's surprise, it became an overnight sensation. This brand-new Honda Valkyrie redefines the Muscle Cruiser category by elevating all of the above qualities. Through its minimalist approach, the Valkyrie weighs an incredible 154 pounds less than the current GL1800, which should give you a hint about its awe-inspiring performance.

Power to spare of Honda Valkyrie
With the torque peak arriving early at only 4000 rpm and peak power-hitting 1500 revs later, plus a considerably sportier power-to-weight ratio than the Gold Wing or F6B, the Valkyrie delivers astonishing roll-on power. A shorter, lighter, more compact exhaust system with slash-cut tips gives the Valkyrie a distinctive visual identity and a more deep, booming voice of authority to accompany its incredible power. A black-out treatment like the F6B provides this powerplant with a muscular hot-rod look.
The Programmed Fuel Injection (PGM-FI) system carries over from the Gold Wing. By the very nature of its design, the unique, horizontally opposed six-cylinder engine configuration promotes a shallow centre of gravity, which leads to responsive handling. This system is also a model of refined performance under just about every street-riding situation to be encountered.
The Valkyrie features its unique intake ducting to feed air to the two 40mm throttle bodies, including six high-pressure fuel injectors. In addition, the five-speed gearbox, clutch and shaft final drive have all been thoroughly proven over more than a decade and millions of miles of real-world GL1800 use.
Specially designed radiator shrouds net a significant rider benefit: The shape and angle of the covers re-direct hot air away from the rider for added comfort.
Solid Foundations for Handling Prowess by Honda Valkyrie
The Valkyrie chassis design centres on the basic aluminium frame used in the GL1800 and F6B. And it's a great one. Paralleling Honda's twin-spar aluminium frames designed for sportbikes. This frame delivers handling traits, and the rider feels and feedbacks more like a full-on sportbike than a cruiser.
Because aluminium is easier to manipulate for efficiently tuning frame-tube shapes, wall thicknesses and other dimensions for optimum rigidity and lightweight. The specific strength and rigidity/tune flex qualities apply to the frame where most needed. Most major dimensions remain unchanged from the GL1800 and F6B. But the Valkyrie frame sport a different rear subframe to accommodate its unique seating arrangement.
The Advantage of Gold Wing
That 154-pound advantage over the full-dress Gold Wing reaps unique rewards. Excellent manoeuvrability, light and agile manners. The stout 45mm fork lengthen to raise the front end, incorporating a cartridge damper for plush yet well-controlled response. Fork damping settings are unique to this model. Given its lighter curb weight of 750 pounds and a new weight distribution that is now effectively a 50/50 split.
The rear Pro-Link single-shock suspension system and a single-sided Pro-Arm® swingarm incorporate a shock with damping tuned toward sporty riding. A dial-type remote adjuster offers quick adjustments to rear shock spring preload easy access.
Dual full-floating 310mm rotors and new four-piston callipers upfront. Plus the rear 316mm disc setup, deliver stellar braking power and a terrific feel. With 19-inch front and 17-inch rear wheels, the Valkyrie also adds a touch more cornering clearance to the equation.
Distinctive Touches of Honda Valkyrie
The Valkyrie's rider triangle has also changed. Reflecting its more sporting nature. The footpegs are 1.3 inches higher and 0.6 inches forward than those on the F6B. The handlebar is 1.3 inches forward, 1.5 inches taller and spreads 0.7 inches wider than the F6 B's bar.
The traditional-style fuel tank holds a total of 6.1 gallons and the two-piece. The seat draws attention to the open more spacious cruiser-oriented riding ergonomics. And also yes, a beefy 1-inch handlebar with new switchgear adds to the Valkyrie's muscular. Looks and is rubber-mounted for added comfort. Passengers will appreciate the look and function of the aluminium grab rail. But if priorities lean toward solo riding, the rear seat and grab rail remove. A cover provides to hide the rail mounting points for a fantastic solo look.
The Unique Meter of Honda Valkyrie
The unique handlebar switchgear, LED turn signals, LED taillight and also LED headlight contributes to the Valkyrie's unique appearance. The Valkyrie also receives its meter set up with an LCD digital speedometer, tachometer, trip meters, clock, and fuel-level gauge. The rider can also customize the opening message when the critical tortured. To top it all off, 15 Honda Genuine Accessories will be available giving buyers. Even more to work with to personalize their Valkyrie's looks.
Honda adds a new branch to the Gold Wing family tree with the Valkyrie. Now encompassing three truly unique motorcycles for riders of different stripes. Like the first version, this newest Valkyrie is a genuine muscle bike. yet one that remarkably thanks mainly to its mighty yet smooth six-cylinder engine.
With its awe-inspiring acceleration. A chassis designed to deliver a high handling performance for more aggressive riding. Radical hot-rod styling and all-around versatility. The Valkyrie goes well beyond conventional class limits to do the original Valkyrie did: Carve out a class of its own. And that makes the Valkyrie profoundly and completely Honda.
Conclusion
The original Valkyrie produce from 1996 to 2003 by the previous 1520cc version of Honda's flat-6 engine. Over the years, this Gold Wing spinoff became a cult classic in its own right. In 2004. So Honda produced the shocking—at the time—Valkyrie Rune, which releases in minimal numbers for just one model year. Looking back at photos of the Rune now, the bike isn't too far from Honda's latest iteration a decade later.
Also Read: What is a Sports Utility SUV? – Definition, Sizes, And More