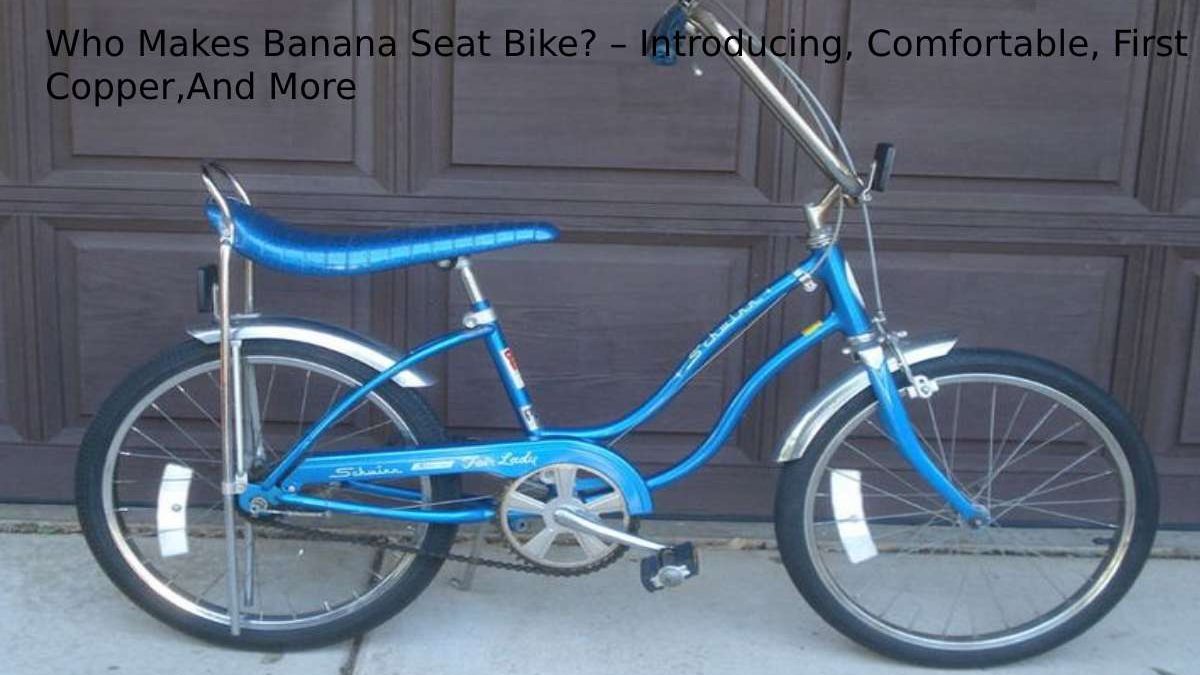 Banana Seat Bike – Introducing
The Banana Seat bike is lightweight and durable for young riders not yet ready for pedals. In addition, the bike helps them develop the skills necessary for a pedal bike. The LT Banana Bike is easy to assemble and has adjustable handlebars and an adjustable seat. It is available in three colours.
Bikes with the banana seat, as it came to be known, were first produced in 1963 by the Schwinn company. The Schwinn "Sting Ray" had a banana seat and high-rise handlebars giving it the look of a "chopper" motorcycle and was an instant hit for the company. The long, padded seat meant a more comfortable ride and could accommodate more than one rider.
Are Banana Seats Comfortable?
Although banana seats were mainly a styling feature, the longer shape allowed manufacturers to include more padding.  Extra padding, along with the additional seat area, provided greater comfort. Unexpectedly then, banana seat bikes were also found to be practical. The length allowed the rider to adjust his position on the bike for greater comfort, and banana seats provided more padding and a greater seating area. In addition, the seat design was typically more comfortable than a regular saddle.

Radical styling
It seems obvious now, but in the '60s, the idea was radical. Bikes with banana seats seemed ridiculous and presented a huge risk—most bicycles of the time were designed for comfort and practicality rather than style. Bikes view as much as a commuting aid as a leisure pursuit.
Although previous decades had seen bike styling change to mirror motorcycles, putting a banana seat and Ape-hanger bars on a bike was a departure from practicality. The banana seat bike style mimics the long saddles of laid-back chopper motorcycles. The long seats could accommodate pillion passengers on motorcycles but were simply about appearance on bicycles.
The exaggerated 'Ape-hanger' handlebars and small wheels were additional departures in bicycle styling accompanying the banana seat. Banana bikes, as they became known, were essentially the bicycle world's first major departure from the traditional world of commuting. The Huffy Dragster injected style and fun into bicycles, helping to change the commuter tool into an enjoyable pastime to share with friends.
Bike with Banana Seat and Sissy Bars
Bicycle sissy bars became commonplace later in the 60s.  Again, sissy bars were useful for passenger comfort and safety on chopper motorcycles but were to add style on banana bikes. Street motorcycles were commonly chopped up and rebuilt to suit the long straight American highways. Engines were often Harley Davidson V-Twin power plants with stunning, effortless acceleration.
As rear-seat passengers had no handlebars to grip, a quick twist of the throttle could easily see the pillion roll off the back of the banana seat and tumble along the tarmac. You had to be macho to ride as a passenger unless you had to hug the rider in front!
Sissy bars were added as a functional, stylish feature to accompany the banana seat. The sissy bar lets the passenger sit back and enjoy the ride rather than strain to stay on the seat.

What was the First Chopper Banana Bike?
Chopper-style bicycles cover a broad range of styling. The name was born from cutting up (or chopping) motorcycles and refabricating a more purposeful machine.  The original chopper motorcycles stripped down, and lightened motorcycles with drop bars became called Café Racers. By the 60s, chopper motorcycles with stretched front forks, ape hanger handlebars, far rear tires, and small, skinny front wheels.
Schwinn Banana Seat Bike
The 80's Stingray added a much fatter rear tire, a stretched frame, a low riding position, and had regular handlebars rather than the ape hangers of the Dragster. In addition, the seat on the redesigned Stingray presented unique styling.
The banana seat widened further and became sculpted into the low frame. The fat, low, banana seat has a sissy bar to compliment the stretched frame and fat rear end. Until the release of the Stingray, saddles were long and narrow and had raised above the bicycle frame wheels. The Schwinn banana seat was fat and sunk into the bike's centre. The saddle hugged the frame and was relatively wide and curved.
In 1969, the Raleigh Chopper was in the US; in 1970, it was in the UK. The Raleigh Chopper followed the styling of the later Huffy's and Schwinn with a smaller front wheel and a taller sissy bar to compliment the ape handlebars, banana seat, and frame-mounted gear lever.
This became the bike of a generation in the UK without easy access to the earlier Schwinn Stingrays or Huffy Dragsters
Banana seat bike for adults
There is no better way to beef up a bicycle than to add a motor. After all, a motorized bicycle is only a small step away from a full-blown chopper. The Fat tire Schwinn Stingrays are hugely popular as they make badass hogs.

Will a Bicycle Engine Fit on a Banana Seat Bike?
Adults often ask, 'Will a bicycle engine fit on a banana seat bike?' I think that the images in this article answer that question adequately. We rarely encounter any major issues fitting a bicycle engine kit onto banana seat bikes.
The fat rear tire requires the engine and rear sprocket to offset the bike's left slightly.  However, the standard chain in bicycle motor kits is just a fraction too short for most installations. It is simple to add a few links to extend the length of a standard bicycle motor chain.
Can you put a Banana Seat on any Bike?
Banana seats come in various shapes and forms to fit just about any bike on the market. Schwinn-style seats are usually on top of a standard saddle stay.
Banana saddles of every shape and size are available, so you should be able to find one for your bike. The question is more about styling. Would your ride look good with a banana seat?
Girls Banana Seat Bike
Note that although bicycle engines to any bike, some models are easier than others.  For example, girls' banana seat bikes are among the more difficult to fit motors.
The issue is that girls' bicycles have two parallel tubes in the frame rather than a crossbar.  As a result, the engine is high, awkward, and exposed if the motors are in front of the rider.  Fitting the fuel tank also presents an issue.
Behind the seat is the best place to fit an engine on a girl's bicycle.  Although many have done this, it requires a higher level of DIY and a few more tools than fitting to men's bicycles. Lady's banana seat bikes like the Schwinn Fair Lady are great bicycles.  Be warned, however, that if you want a motorized bicycle, we recommend electric conversion rather than a gas-powered motor kit.

Today Banana Dirt Bikes
The comfort and style of banana seat bikes continue today.  In addition, Lowrider bicycles often feature lavish, velvet-covered 'thrones' that add style by replicating plain old bicycle saddles.
In addition, mountain bikes emulate motorcycle styling.  Many manufacturers are extending their mountain bike styling to mimic Moto-Cross / Scrambler dirt bikes. For example, the 'Stealth Bomber' electric bicycles feature powerful electric motors with banana seat styling.
Conclusion
Banana Bike is a lightweight, durable bike for young riders not yet ready for pedals. The bike helps them develop the skills necessary for a pedal bike. The LT Banana Bike is easy to assemble and has adjustable handlebars and an adjustable seat. It is available in three colours. Users were disappointed that the bike had foam tires instead of plastic. The bike lacks a footrest. Many users found that bearings and other hardware on the bike could become loose with regular use and require replacement and tightening often.
Also Read: Who Makes Fuji Supreme 1 women s Road Bike 2021? – Introducing, Rough, And More